4Developers 2021 in its virtual version!
IT industry will meet again in one place in cyberspace. The biggest Interdisciplinary Technological Festival in Poland will take place once again on 24-27 May! IT community, experienced experts and a bunch of practical lectures – all this within a few days virtual event!
4Developers is a formula that has remained unchanged for years: several tracks focused on various programming languages. Despite the new circumstances, the substantive value of the Festival remains unchanged. For four days participants will be able to learn about the latest topics and trends in the IT environment, and the dedicated platform will provide them with the opportunity to make professional contacts in virtual reality. The whole IT environment invariably gathers at 4Developers, including numerous representatives of companies and software communities from all over Poland.
As many as 14 thematic tracks!
During this year's edition of the Festival, participants will be able to listen to lectures on as many as 14 thematic tracks. Among them will be:
Application Architectures, Bottega Innovation Labs .NET, Java, JavaScript, Frontend/UI, Mobile, PHP, DevOps, Testing, Cloud, Machine Learning, Security and Soft Skills & Business Relations!
The high level of lectures that will be presented at 4Developers 2021 is supervised by the Program Council, consisting of leading Polish experts from the IT industry.
In this year's Council sit: Anita Przybył, Dawid Ziółkowski, Jakub Gutkowski, Grzegorz Piwowarek, Piotr Wicherski, Jakub Pilimon, Joanna Lamch, dr Krzysztof Wojewodzic, Maciej Korsan, Michał Bartyzel, Piotr Stapp, Marcin Szeliga, Sławomir Sobótka, Tomasz Tarczyński, Tomasz Kowalczyk, Hubert Zub, Paweł Fiderek, Damian Mazurek, Przemysław Libudzic, Krzysztof Przygudzki, Adam Haertle.
The agenda of the next edition of the Festival is already available!
Check out the 4Developers 2021 agenda!
IT festival full of opportunities
4 Developers 2021 is a true virtual festival that gives attendees a wide range of. The organizers list:
over a dozen technologies and programming languages – 14 thematic tracks and 4 days of the Festival;
best Polish experts on the virtual stage and interdisciplinary agenda;
current topics, strictly selected by the Program Council;
4Dev Gift Pack;
Certificate of participation for those willing to use it for professional and academic purposes;
Presentations for both professionals and amateurs;
access to records for a month after the conference;
Q&And with the speakers for a chat after the lecture;
discussion and networking channels;
virtual attractions and competitions with prizes;
partner zone and meetings with Partners;
Contact with IT communities and their leaders;
With the code MOBILETRENDS_AT_4DEV21 you have 10% discount for Standard tickets!
Just enter the code in the shopping cart for the discount to accrue: https://tiny.en/rkcz8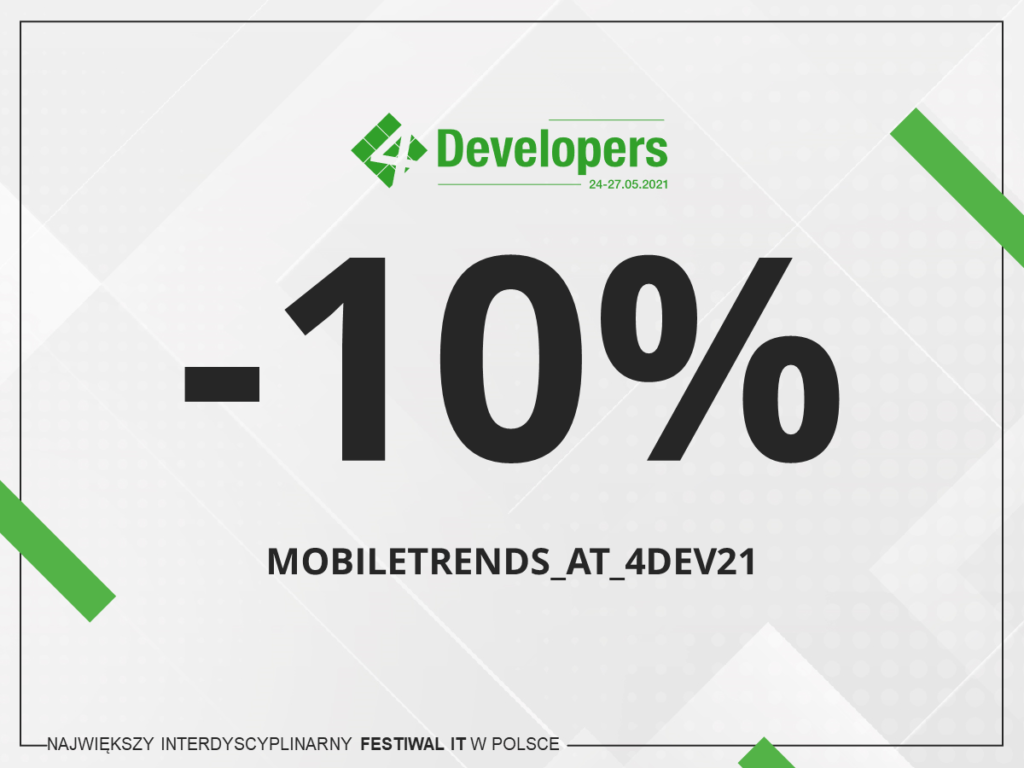 The organizers also encourage you to follow the 4Developers channels on Facebook i LinkedIn. You will find there all the latest news about the upcoming edition of the Festival.