59 percent. IT professionals look for a new job when the atmosphere in the company does not suit them.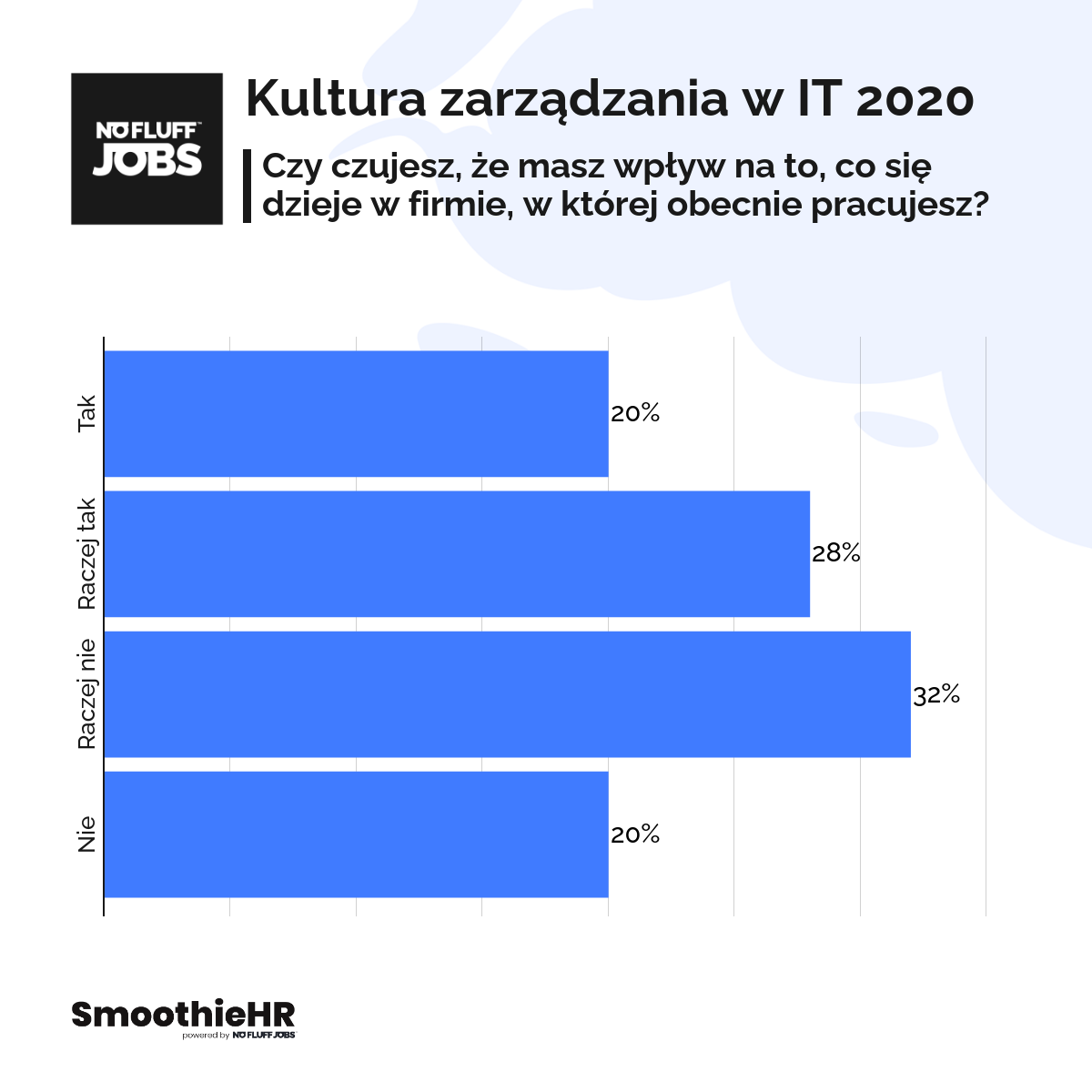 59% of. IT professionals looking for a new job when the atmosphere in the company does not suit them
Management, organizational culture and working conditions in a company have never been so important for future and current employees as now. The "Culture in IT" report conducted by No Fluff Jobs shows that for 59 percent of. those looking for a job in IT count even more than a manager. Every 3rd IT employee experiences micromanagement and 65% of the. of them change their jobs because of it.
The SARS CoV-2 virus pandemic has not affected the IT market as much as some sectors of the economy – jobs for IT professionals were not in short supply, and still are. However, it appears that culture and the type of projects and services provided are becoming more important.
– IT companies are always looking for employees. The number of offers for the IT industry published on nofluffjobs.com exceeded 26,000 per year – was the highest since the portal's inception and by as much as 60 percent. higher than in 2019. Especially sought after were seniors, for whom the credibility of employers has become even more important – says Tomasz Bujok, CEO of the portal No Fluff Jobs, which in the last quarter of 2020 conducted an online survey "Management in the IT industry".
What do IT professionals think about management style in organizations where they work?
Unfortunately, opinions are divided on this issue. As much as 48 percent. IT professionals rated the management style in their company bad or very bad, and 52 percent. good and very good.
These responses vary by position and experience. While as much as 37% of IT companies have experienced this problem. trainees are not satisfied with the level of management, while in the case of team leaders, only 25 percent of employees with high seniority (in the case of IT) are not satisfied. have positive opinions about it. On the other hand, as many as 32% of. of those with intermediate experience (midzi), with only 24 percent. employees with long work experience (seniors). It also turns out that there is a problem of inadequate communication in companies – as much as 51% of respondents pointed to it. respondents. Only 18% of. do not perceive it.
When asked whether there is a cyclical flow of information between other teams in the company in the field of ongoing projects, as many as 50% of IT specialists are unable to say. trainees answered that yes or rather yes. The more experienced respondents, the worse the answers were.
The culture of the organization determines the choice of employer
In a pandemic, the company's organizational culture and the type of projects and services conducted have become more important than ever. Every 3. IT specialist looked for information about the company's culture already at the stage of scanning job offers on the web, and 59% of. IT professionals began the process of looking for a new job when the culture in the company did not suit them.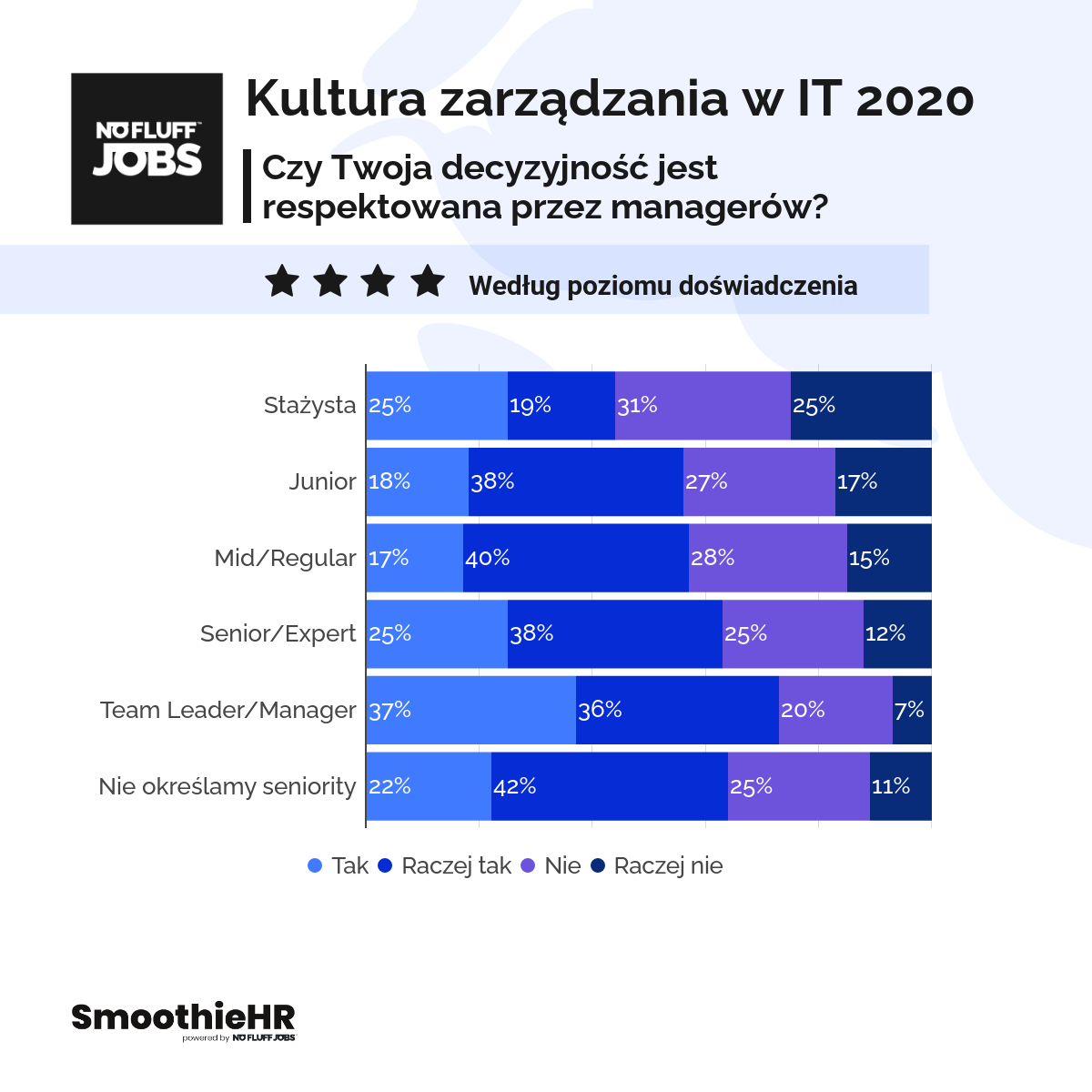 – It's accepted that it's up to companies to research the culture fit of candidates and decide if the person will fit into the team, but this should work both ways – says Magdalena Gawłowska-Bujok, COO No Fluff Jobs.
Decision-making and the role of the manager – management culture
Currently, an important phenomenon is micromanagement – management with exaggerated attention to detail, and on the other hand a lack of decision-making power of the person who is managed. The No Fluff Jobs survey found that one in 3. person from the IT industry experience it on their own skin. For 65 percent. of them this is a reason to change their job. For 21 percent. of respondents, decision-making is not respected in the team, and as many as 39%. complains that by management.
No Fluff Jobs research also shows that 56 percent. current managers and team leaders (team leaders) were promoted to the position in the internal recruitment in companies, in the course of which the team leader becomes an experienced developer.
– More than 70% of IT. of IT leaders say they have not received leadership training, while 40% say they have not received any training. of them are not able to say whether they are satisfied with promotion to a higher position – adds Marta Steiner Head of Product Management, No Fluff Jobs.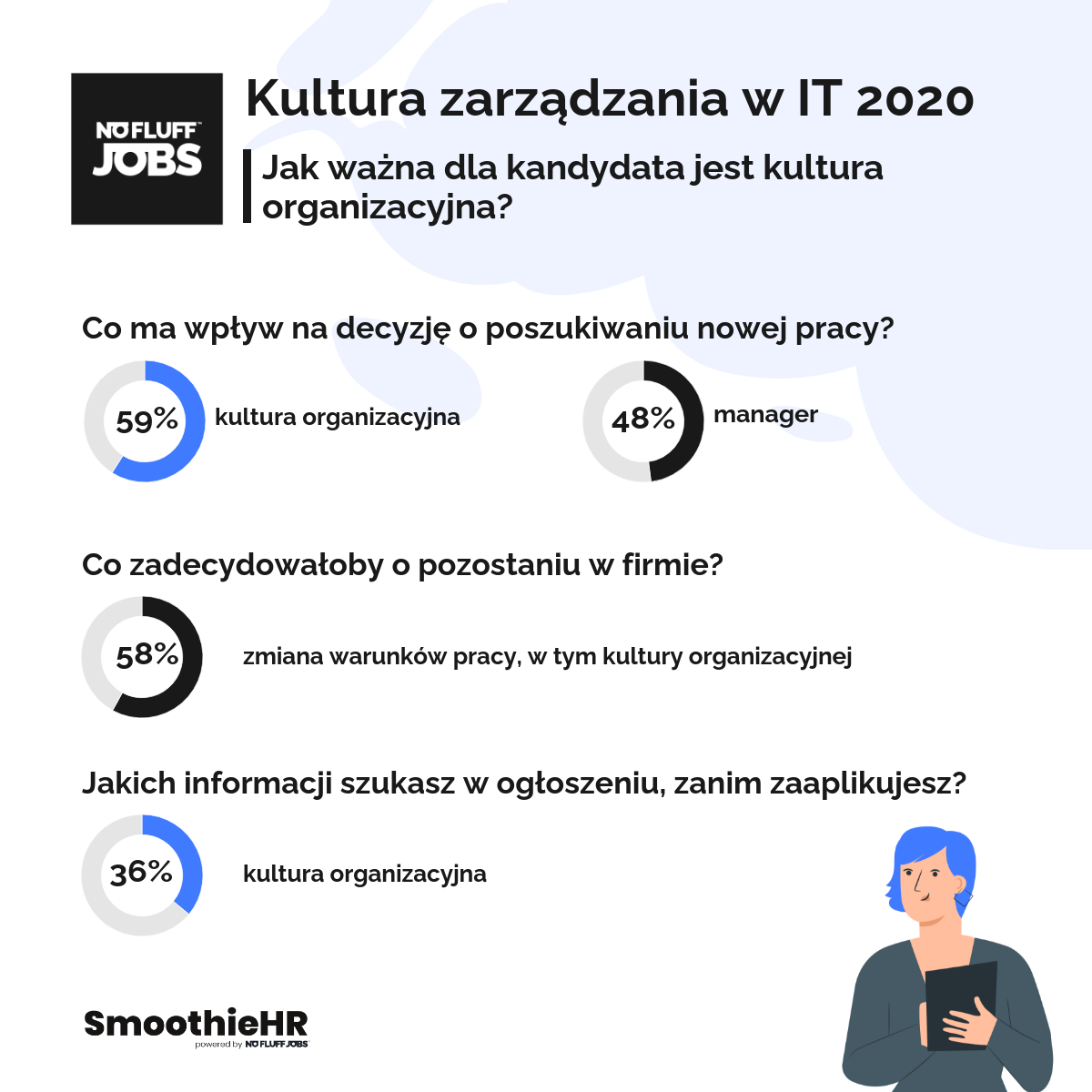 To make matters worse, the survey shows that 52 percent of. of IT workers feel that they have no influence on what happens in the company. Not surprisingly, nearly 50 percent. IT professionals do not feel connected to the company they work for. Almost half of the respondents also said that the management style in organizations is inappropriate.
– This problem most affects professionals at mid and senior levels – adds Maja Gojtkowska, HR industry expert. – These are people with several years of experience in the industry and often several years of experience in a single organization, so they can more easily draw conclusions about whether the style and manner of communication in the company helps them run smoothly or reduces their effectiveness.